How to know which solar water pump system is suitabel for you ?
As a professional manufacturer ,we usually received many inquiries of solar water pumping system .
But many customers can not gave us a clear and useful info about their requirement .
So this artical will give you a brief explanation to help you how to find a suitable solar pump system .
Please check the below picture :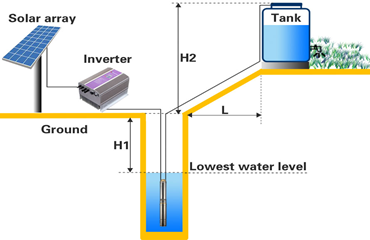 A complete solar water pumping system including solar panel array ,pump inverter ,pv cable ,dc and ac pump ,water pipe ,water tank ,water level detector,,etc .
1. Average daily water demand : ____M3
2. H1 info (lift from lowest water level to ground)___M
3. H2 info (tank height and extra lift if any)___M
4. L info (horizontal distance of water transport)___M
With these preliminary information, we can choose suitable products and offer solution for you .