Photovoltaic energy storage system is different from grid-connected power generation . The Energy storage solar power system need increase the storage battery and battery chargeing and discharging device . Alothough theinitial cost will be increased by 10%-30% ,but the application range is much wider .
Type of Solar Energy Storage Solar Power System
According to different applications , Storage solar system is divided into four types :off-grid power generation system, off-grid energy storage system, grid-connected energy storage system and multi-energy hybrid micro-grid system.
01>,Off-grid power generation system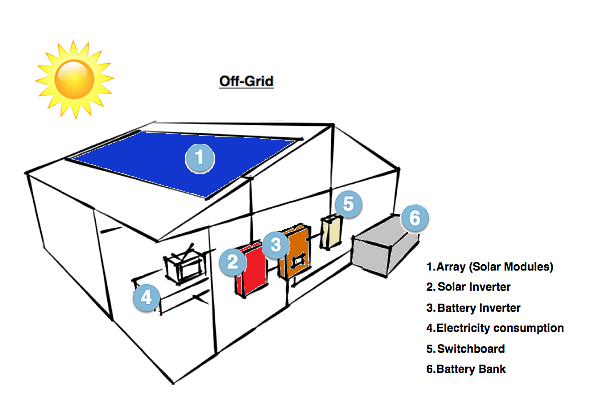 As an independent sysytem, off grid solar power system indepently from the local city grid . Its usually used inremote mountainous areas, non-electric areas, islands, communication base stations and street lamps.
The complete solar power system including solar panel array , solar controller , solar inverter ,battery ,cable ,mounting brackets and relatedaccessories.
The photovoltaic array converts the solar energy into electric energy in the presence of light ,and supplies power to the load via solar controller ,inverter and charges the battery . When there is no sunshine , the battery will offer power to the AC load through the inverter .